Andreas Stolte (DeltaPort), Miguel Castro (Portos de Sines), & Cédric Virciglio (HAROPA PORT), provide their insights on the ongoing MAGPIE project, on how the Demos will bring solutions in their ports, and on how their ports plan to integrate them. Furthermore, they present their lessons learned from the project so far.
After one and a half year of MAGPIE, are there any demos you think will provide an important solution in your own port?

Andreas Stolte, CEO DeltaPort GmbH & Co. KG
"DeltaPort is an inland port connected by the river Rhine and the railway 'Betuwe-Line' to the Port of Rotterdam. For DeltaPort the optimization of the hinterland transport by improving the modal split and using alternative fuels for all involved modalities plays a huge role. Therefore, especially demo 6 'autonomous e-barge and transshipment', demo 7 'green energy container' and demo 8 'hybrid shunting locomotive' could provide important contributions to the implementation of this optimization as well as to DeltaPort's aim of becoming a CO2 neutral port by latest 2050."
Miguel Castro, Maritime Operations Manager, Portos de Sines
"Being a seaport, with no inland water transport connections and with a high focus in the digital and energy transition since the beginning of the MAGPIE Project, we have asked to participate and to follow up on the Offshore charging buoy. Smart energy systems and shore power peak shaving are also projects of a great added value. Ammonia looks like a future e-fuel solution, and bunkering being one of our key business areas, for sure it's going to be implemented. On the inland road transportation, we need to increase our efficiency even more, so green connected trucking or spreading road traffic will play a key role in our port and of course all the digital tools demos, being the Port of Sines one of the Work Package 4 'DIGITAL TOOLS' co-leaders together with INESTEC."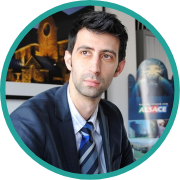 Cédric Virciglio, Strategic Planning Director, HAROPA PORT
"The European project MAGPIE is a booster to advance the objectives of the strategic project of HAROPA PORT – the major river-sea port authority of the Seine axis.
First and foremost, MAGPIE is fully complementary with ambitious policies in the fields of ecological & energy transition, digital transformation and intermodality. This is consistent with a role – the one of ports – which is rapidly changing and evolving. Port authorities remain at the heart of the global logistics chain, yet they are increasingly become hubs for energy systems, intermodal interfaces, and players in urban development initiatives.
The demonstrations ("demos") developed by MAGPIE respond coherently to this change of paradigm. The testing of alternative fuels solutions is considered especially relevant by HAROPA PORT, needless to say in the context of energy transition. Demo 4 "Ammonia bunkering" would ideally provide much-needed answers related to security, land-use but also the prospective financial viability of investments in that field. The work on Demo 2 "Smart Energy Systems" has allowed us to investigate the electricity supply chain, an essential analysis in the market's demand and offer."
---
Do you foresee any complications with the roll-out of the demos to your ports and other European ports?

Andreas Stolte, CEO DeltaPort GmbH & Co. KG
"I'm an optimistic person. All partners in the MAGPIE project are working closely and intensely together. We concentrate a high level of expertise from several sectors, which ensures high quality results in the project work. Currently, I don't see any insurmountable complications with the roll-out of the above-mentioned demos in our ports. I'm convinced that we will achieve important milestones, becoming smarter and greener European ports by the end of the project. We are on the right track."
Miguel Castro, Maritime Operations Manager, Portos de Sines
"All demos are excellent products that can be applied to any port in Europe depending of course on their geographical conditions and connections. When the demos reach a commercial tier and there is the possibility of scaling up the projects, we see it the other way around. Instead of complications, other ports for sure will adapt this equipment and technology. Our challenge in the MAGPIE Project will be the implementation of these demos."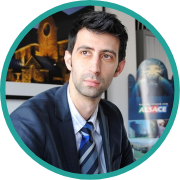 Cédric Virciglio, Strategic Planning Director, HAROPA PORT
"Following this further, MAGPIE shows the strength as well as the significance of collaborative research. By bringing together a large pool of stakeholders – ports, industrial leaders, academia, researchers, and public authorities – to work together on future-proof initiatives, MAGPIE is capable of triggering all different ecosystems of a complex and diverse sector such as the maritime one. Finally, MAGPIE is a timely project. In fact, the concept of "Green Port of the future" is not just a strategic objective. The greening of the entire maritime ecosystem is an imperative and a responsibility in the current context of climate degradation. Reducing GHG emissions and improving air quality, in a broader perspective of decarbonisation, is the way for port authorities to play a decisive role in achieving the ambition of the European Green Deal."